Swami Chinmayananda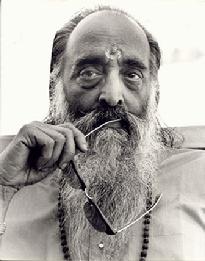 Swami Chinmayananda, founder of Chinmaya Mission is the inspiration behind CORD. It is his vision that translates into and permeates the very structure of this organization.
Swami Chinmayananda said, "Let us be humble and grateful for the opportunities available to us to serve the society and the world."
In the 42 years of his service to humanity, Swamiji left his footprints in a variety of projects that sprang up, and still continue to mushroom under the banner of the Chinmaya Mission. For him, there was nothing to gain or lose by working in the world. Yet, he wanted to provide his devotees with many an avenue to grow to their fullest stature.
Swami Chinmayananda saw these projects as fields for devotees to perform selfless service. He himself took every opportunity to serve, give, and love, leaving behind a rich legacy of works of service, including a 200-bed hospital, a number of clinics and diagnostic centers, rural upliftment projects, schools, temples, old-age homes, and orphanages.
Swami Tejomayananda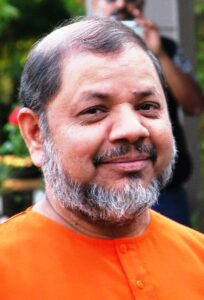 When the founder of Chinmaya Mission passed on, the mantle of leadership draped the shoulders of Swami Tejomayananda. He took over where his Guru left off. He followed his own advice too, "fill the heart with love and gratitude. "The phenomenal growth of Chinmaya Mission under his leadership amply proves the success of his philosophy.
The work of CORD is especially dear to Swamiji's heart. His vision and direction is the heart of the program. Though hard-pressed for time, its activities and growth receive his personal attention.
In December 2003 under his stewardship, the service projects of the Mission were brought under the banner of CORD. After this, developmental work in Lathikatta (which had already started) picked up. New branches in Deuldiha, Tamraipakkam, Kaza, and Siruvani came into existence.
His philosophy is simple. "We work with inspiration. We trust in God, and Pujya Gurudev's blessings and that trust is our main strength. Abiding in our trust and knowledge, if we start any service, we should just go on doing it. Do your work, for work, is worship, and work shows worth."
"INITIATE, WORK SINCERELY, AND SURRENDER" – Swami Tejomayananda
Swami Swaroopananda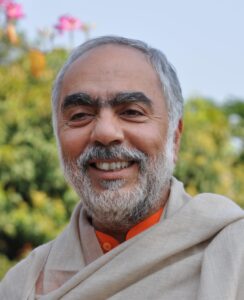 Swami Swaroopananda is the Chairman and President of CORDUSA since 2017 after Swami Tejomayananda stepped out. Swami Swaroopananda earlier was the Regional Head of Chinmaya Mission UK, Australia and the Far East and the Director of Chinmaya International Residential School in Coimbatore. In his early twenties, inspired by Gurudev Swami Chinmayananda, he became a monk and left his successful businessman in Hong Kong. He believes in enabling and empowering so that our beneficiaries will break the cycle and become their own models for a sustainable future.
Dr. Kshama Metre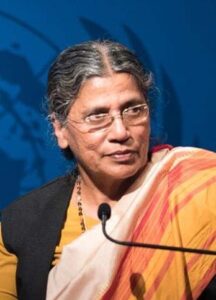 Dr. Kshama Metre popularly known as "Doctor Didi" is the national director of CORD, which stands for Chinmaya Organization for Rural Development. Dr. Metre has dedicated her life to CORD which is a participatory, comprehensive, integrated, and sustainable rural development project. CORD was initiated in Sidhbari in Kangra District of Himachal Pradesh, covering over 550 villages and now has spread its wings in Orissa, Tamil Nadu, and Andhra Pradesh.
Dr. Kshama Metre was born on June 26, 1950, in Nagpur, Maharashtra to Smt Shantabai Metre and Shri Waman Rao Bapuji Metre who was honored with Padma Vibhusan for his pioneering work in the oil industry. As a child, she moved with her family from Assam to Delhi where she graduated with distinction in Senior Cambridge from Frank Anthony Public School and proceeded to get her MBBS and MD in Pediatrics from Maulana Azad Medical College. She completed her Senior Residency in Lok Nayak Jai Prakash Narayan Hospital in Delhi. Dr. Metre continued on to establish a very successful practice in Pediatrics in Delhi. In spite of her success, Dr. Metre was greatly inspired by her father to live a life of simple living, high thinking, and service to the nation.
After a chance meeting with world-renowned Vedanta Master Swami Chinmayanandaji, near three decades back, Dr. Kshama Metre left a flourishing pediatric practice in New Delhi to work as a doctor in rural primary healthcare services.  In this new setting, she found the health system marginalized the communities it was meant to serve.  Dr. Metre refocused her efforts on community development initiatives, and become an early pioneer of India's highly successful self-help movement. In just two decades, such small decentralized groups – made up of mostly women – have extended access to financial credit to almost 100 million people, and in other ways also empowered the poor.
Her development work began in 1985 in Sidbhari, Himachal Pradesh with mother and child health services through 10 sub-centers and training of 120 nurses in 4 batches. Soon with input and feedback from the community, forward and backward linkages were built based on their needs. As a result, an integrated rural development model emerged which was successful and could be replicated with local modifications. Most important, this participatory development model empowered the community to be self-respecting and self-reliant. Components of the program include community-based organizations such as:
•  563 Women Groups known as Mahila Mandals with 22,000 members
•  220 Youth & Men Groups
•  1490 Self Help Groups
•  Adolescent Girls' Group with 10,300 members
•  Bal Vihar with 75 groups for children
•  Income generation activities for 13,000 underprivileged men and women in farm and the allied sector as well as non-farm sector and service sectors
•  Provision of informal legal aid to 365 resolved cases
•  Community health and sanitation programs
•  Community based rehabilitation program for inclusion of 448 disabled people in mainstream society
•  Promotion and implementation of natural resource management
•  Strengthening of 222 local self-governance units known as Panchayats with focus on women
In all of Dr. Metre's work emphasis is placed on issues such as gender discrimination, HIV/AIDS, and alcohol abuse awareness and treatment of alcoholics. Moreover, Dr. Metre works very closely with the National Bank of Agriculture and Rural Development (NABARD) and has been instrumental in establishing Micro Credit through Self Help Groups in four states of India where training has been given to 30,000 bankers, government functionaries, and beneficiaries. She is also an active advocate for disability issues.
From Sidhbari since 2005 CORD began expanding its activities in other states of India covering 5 other sites. Now CORD is planning to upscale its training components to increase its outreach through its sites in India & share its work on different components with Govt. and other NGOs.
Awards and Recognitions
Dr. Kshama Metre has won several awards and recognitions for her contribution to society
•  Won the 2012 Guardian International Development Achievement Award.
•  Padma Shri Award given by the President of India in 2008 for Social Services.
•  Nina Sibal Award in 2006 for the inclusion of persons with different abilities.
•  Nominated as a member of the 11th Planning Commission (Primary Health Care), Govt. of India, for the period 2007 to 2012.
•  Sadguru Ganananda Award in 2005 for excellence in Social Service
•  Featured in "Prophets of India" in 2004
•  National Women Commission Award for Women Empowerment in 2002
•  Received Ojaswini Award in 2000 for excellence in Service
•  Nominated for "Women of the Year" by Week Magazine in 1993
Dr. Meera Krishna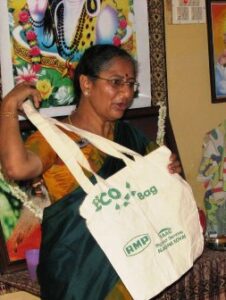 Dr. Meera Krishna fulfills many roles – that of a medicine woman, counselor, and mentor.
Her presence makes all the difference to the people in and around the village of Thennamanallur.
Not everybody in Thennamanallur knows her name or where she's from. But they're sure of one thing — 'doctor' is someone they can turn to, no matter what. There is only one clinic in the village. There are no crowded waiting rooms. A Ganesha statue stands at the center. There is a blackboard in one corner with benches facing it. Kids play carrom in an open courtyard. Meera Krishna sits at a table overlooking the courtyard.
She is the project coordinator for the Siruvani branch of Chinmaya Organization for Rural Development (CORD). A few years ago, illiteracy, poverty, and alcoholism prevented the development of any kind at Thennamanallur. Most houses did not have toilets. Women rarely stepped out of their homes. But things changed once Meera set up a CORD office in the village."I've always wanted to serve in rural set-up," says Meera. "After 16 years of practice in Chennai, we moved to Coimbatore for my daughter's education. She studied at the Chinmaya International Residential School in Siruvani." Meera passed by Thennamanallur whenever she visited her daughter. She thought it was a perfect place for her clinic. "I volunteered here for a year," she says, till CORD identified her in 2006.
Meera has been on her toes ever since. "At CORD, we empower the rural population by integrated and sustainable development," she explains. It's all about bringing people together.
Awards and Recognitions
•  She was a resource person in the UNICEF sponsored workshop on Menstrual Hygiene
•  won the FICCI Ladies Organization (FLO) Award for Social Service in 2012
•  was inducted as an Honorary Member into the All-Ladies Rotary Club "Aakruti" of Coimbatore, 2013
•  won the Best Doctor citation among the Women of Impact awards for 2013
•  was awarded one of the "Outstanding Woman" awards of 2013 by the National Commission for Women in March 2013