Chinmaya Vishwavidyapeeth – A confluence of ideas and ideals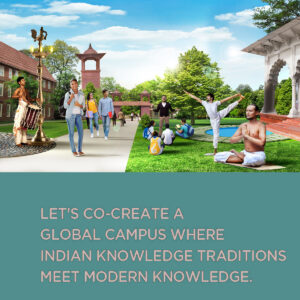 Imagine a university where students are taught not just to chase first place, but to discover their unique place in the world. Where past and present, East and West, diverse ideas and varied perspectives converge. Imagine a university, where life and an inner moral compass are as much a part of the curriculum as the latest academic theories. Imagine a university where rich traditions of thought and wisdom meet modern pedagogy.
At Chinmaya Vishwavidyapeeth (CVV), this is not some imagined ideal. It is a living, breathing reality. A way of life that can be witnessed in the engaged minds of young students who are already on the path to being change leaders for tomorrow.
It was set up in 2017 as an institute of higher learning guided by the tenets of Indian wisdom and its amalgamation with modern pedagogy and technological advancements.
A curriculum for visionaries
At CVV students don't walk an increasingly narrow path of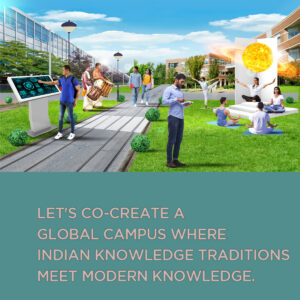 specialization they are encouraged to explore, delve deeper, and explore the lanes of knowledge they would not have otherwise explored.
Students can major and minor in subjects. They can also earn credits by choosing unique electives and supplementary subjects which broaden their mental horizons. For example, a BCom/BBA student can also choose to learn Arthashastra; a powerful ancient treatise by Kautilya on statecraft, economic policy, and military strategy.
This allows students to question typical mental models, cross-pollinate ideas, and see the bigger picture. At CVV students are encouraged to debate, think critically, and see knowledge not in theory but in action.
But the emphasis on broadening thought and spirit does not end there. Students can also learn dance, yoga, meditation and more, to explore themselves and their true calling. This is not a one-size-fits-all classroom approach. At CVV, every unpolished young mind will be mentored to reach its true sparkling potential.
Putting true North on the agenda
CVV's rich, multi-perspective, interdisciplinary approach is the key to nurturing
happier, compassionate students. With ethics at the heart of their learning, happier students tend to think about the balance sheet of society, rather than just their own. When this happens, they go from being mere individuals to become change leaders the world needs.
Please feel free to check out these videos from CVV to know more.
CVV's Upcoming State of The Art Campus
The CVV Experience
CVV - The power of Indian Wisdom
CVV - Creating Change Leaders
CVV - A Teacher's Journey
CVV - A Holistic Vision
CVV - Student's Journey
The CVV Manifesto
If you would like to be part of this movement, donate using this link, for a fully tax-deductible contribution.